How to get support
Where to start
Take a look through the items in this help centre; where you will find articles with how-tos and suggestions to help you resolve your problems.
If you cannot resolve the issue and need our help then please contact us. The fastest way to get a response will be to send us an email:
From the email account for the address you registered in your account,
Add the 'Support PIN' shown on the settings page displayed when you manage your tags,
Detail the help that you need, with a brief description of any background information you may have: steps taken so far, etc.
Our support email address is:

[email protected]
If you telephone us, we will need you to provide this 'Support PIN' and other details before we can make any changes to your account.


Where can I find the Support PIN?
To get the support PIN go to Manage Tags - it can be found just below your email address displayed at the top of the settings page.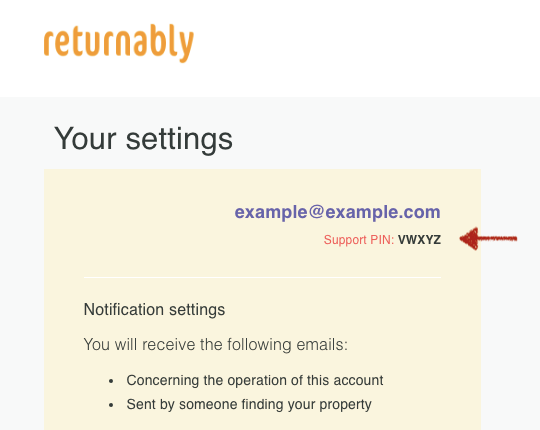 Why do I need a PIN
It is to protect your account from being changed by an unauthorized person. So you must never share your PIN with anyone else other than when you send it to us. We do not think it is likely that your account will be attacked, but we do think it is better to be sure by taking this simple precaution.